Life in Hell's Kitchen - A Balancing Act
Gaukhar Akhmetova-Atherton, known by family and friends simply as "Gasya," brings new meaning to Dr. Seuss' famous line "Life is a balancing act." After years traveling as a Cirque du Soleil performer, she recently took four years off to have her two children. Meanwhile, her husband, whom she met in her Cirque cast, was busy creating Cirque du Soleil's first resident Broadway show "Paramour."
Gasya is now making her way back to the Cirque du Soleil stage, and shares how to balance the demands of a professional life and motherhood, and how living at Instrata Hell's Kitchen has helped.
How did you meet your husband, and what brought your family to NYC?
I met Andrew in 2006, while we were both performing in the Cirque du Soleil touring show "Varekai," which just recently went overseas to Australia after touring North America for four years. Ten years later, in January of this year, I made the big move to New York to join him as he was creating the Cirque du Soleil show "Paramour." The show is incredible—the first Cirque show to have a Broadway residency.
What is the best part of being a mother? The worst?
The best part of being a mother is that I'm rewarded every day with something new and exciting. I get to see each and every stage of my son's and daughter's development, and shower them with unconditional love and affection. I knew it would be amazing, but I never thought it would be this amazing!
The worst part was having to postpone my career to start a family. However, in my eyes, this was a very small price to pay. My best years are ahead of me and now I get to experience them with my husband and kids.
How do you balance being a Cirque du Soleil artist with being a mother?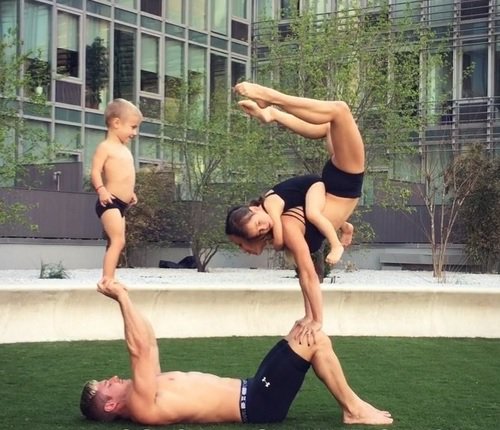 Being a mother has always been my number one priority. I wanted to spend the first few years of my children's development at home, and was fortunate enough to have the opportunity to do so. During that time, I trained and maintained my fitness in such a way that I could jump back into a Cirque show at any time, if necessary. After four years away from the stage, I now feel it's the right time to return, for myself and my children.
What advice would you give to mothers with their own personal dreams and aspirations?
Being a mother should never stop you from dreaming. The dreams a woman has before having children can and should still be the dreams she has now. It may require working just a little bit harder in order to achieve them. The best advice I could give is to always focus on the positive when trying to attain your goals, dreams and aspirations. It's the journey we go through in order to achieve the dreams that make us who we are.
What is the best part about living in NYC? About living in Hell's Kitchen?
Honestly, I didn't know whether or not I would adapt to living in New York after two years in West Hollywood and two years in Las Vegas—but I love it here. My husband wanted to live somewhere within walking distance to work. This also meant I would be able to pop in with the kids and see him perform whenever I wanted to.
Hell's Kitchen has been the perfect location. The best part about living here is that I have everything I could possibly need at my doorstep. There are a variety of restaurants, coffee shops and bars, but the best thing is I pass at least four parks on the way to my husband's theater. We try to walk a different route every day.
How did you hear about Instrata and what made you decide to live here?
My brother-in-law found Instrata Hell's Kitchen while researching for possible places to live in New York. The deciding factor was the building's convenience. We knew the first year in New York was going to be tough because my husband would be rehearsing long, inconsistent hours while creating "Paramour." Living here meant that we would be able to maintain some type of personal life for ourselves and our children. We can still do the things we love—like working out, swimming and entertaining—without ever leaving the building!
How has living at Instrata Hell's Kitchen accommodated your unique aspirations and career?
Living here has made it possible for me to continue training my hand-balancing number while spending time with my family. The yoga and movement rooms are perfect. A bonus is that I have been able to bring my little girl along to some of my training sessions, and now she's showing an interest in handstands and movement, too! She wants to perform with Cirque du Soleil one day like her mama and papa.
What type of people should live at Instrata Hell's Kitchen and why?
There really isn't a particular type of person that should live at Instrata Hell's Kitchen. A few years ago, it would have attracted the single, successful, young, hip individual looking for a modern place to live. The main attraction was the many great bars and restaurants at their doorstep. Now, it looks like more young families are moving into the building because of the security and peace of mind that come with living here. We love it here and would recommend it to anyone!